Sarah from fairyfacedesigns set up the
Summer Sewing Project
earlier this year and eveyone is now giving an update as to how they are getting on. Well here goes!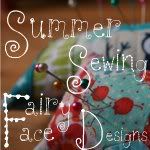 I am very proud to say I finished my table runner which I had been putting on the long finger for ages.
Linen and Cotton table runner
I started making coin purses which are fun to make, choosing which fabric to use!
Working on finishing my first hexagon pillow/cushion
Made my first (and only) bias binding I do want to make more of these
Got addicted to making wonky star mug rugs, plan on making a quilt using the wonky star block.
Finally I am finishing off my first FMQ quilt for a customer, it is a personalised baby quilt to fit a cot bed. Nearly finished. I am using invisible thread on top and white cotton thread on the back. I will do proper post when completed.

Free Motion Quilting

And finally I am finally getting around to a quilt along that Fat Quaterly ran oh about a year ago I'd say!
I am linking up to
Sarah's blog
, pop over and see what everyone has been up to!